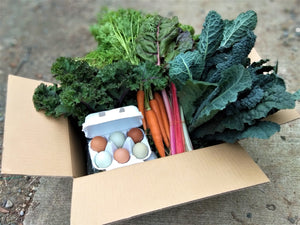 Farmer's Big Seasonal Veg Box (our standard size), 7-9 items, includes shipping
For example, for delivery on July 7th, 2021, the following 9 items were included:
-Beets (with stem, if not too damaged from the rain)
-Potatoes of some kind (500g)
-

Basil (a big bag)

-Purslane 
-Basil (a big bag)
-Cucumbers (3 pieces or so, depending on size)
-Eggplants (3 pieces or so, depending on size)
-Oregano or mint or oregano (TBD)
-possibly one more item (TBD)
This will be a value box with a variety of select seasonal items from our farm , that will change from week to week. It will include items such as salad greens, other greens (possibly multiple kinds of kale), herbs, root vegetables, squash, fruit, etc. Actual content will depend on weather, season, and yield.
It will be shipped via cooled shipping (Kuroneko yamato)to make sure quality is preserved. Price includes taxes and shipping fee.
You can choose to have eggs or not. Please select that here. Then, on the purchase page, there is an area where you can give us special instructions, such as you really want a lot of something (ie you loooove kale) verses you don't want something (ie  you don't like cilantro) and we will customize your box accordingly.
Our boxes are quite large in size (will come in size 100 or 120 box, depending on how much space the items of that week take up) and pretty packed. Imagine you went to a Farmer's Market back home and got a huge load that you've got to take home by car. That's what we are trying to recreate - a bountiful and personalized harvest that's customized for you. 
Our recommendation would be to get this box every other week for a balanced meal that you can actually eat through.
If you are interested in getting this Farmer's Seasonal Box as a subscription (on a regular basis), please email us at kasamatsufarms@gmail.com following your first order of the box.